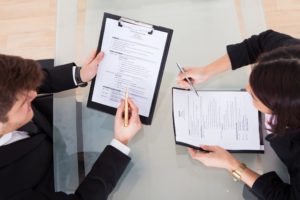 Are you being harassed at work?  Do you believe you were demoted, passed over for a promotion, or wrongfully terminated?  Are you being retaliated against for reporting a supervisor's discriminatory conduct? Are you being denied an accommodation for your disability or being unfairly denied Family and Medical leave?  You may be protected by federal and state law.
There are a number of federal and state laws that protect an individual's right to be free from discrimination in the workplace, including Title VII (prohibiting discrimination based upon race, gender, religion, color, or national origin, and sexual harassment), the Pregnancy Discrimination Act, the Equal Pay Act (prohibiting unequal pay for equal work because of gender), the Americans with Disabilities Act, and the Age Discrimination in Employment Act, among others.  Moreover, the Family and Medical Leave Act (for employees who take leave for a serious medical condition for themselves or a family member) and the Americans with Disabilities Act create certain obligations for the employer to grant leave and reasonable accommodations to employees.
It is illegal for an employer to harass you or make an adverse employment decision about you because you fall into one of these protected categories.   Similarly, in many instances, if you make a good-faith complaint to your employer that your supervisor is engaging in illegal conduct under one of these law (​e.g. you report to human resources or a manager that your supervisor is targeting you because of your FMLA leave, disability, race, etc.), it is illegal for the employer to retaliate against you for making the complaint.
The laws governing an employee's rights in the workplace are vast, and employers both knowingly and unknowingly violate them.  If you have any questions regarding your rights or obligations under the law, please do not hesitate to contact the attorneys of Sadlowski & Besse L.L.C.
We are conveniently located in Blue Ash, which is an easily accessible suburb of Cincinnati, OH.